ACCESS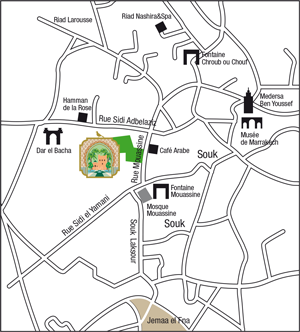 Le Jardin Secret
Rue Mouassine 121
40030 - Marrakesh medina - Morocco
Mobile: +212 (0)667 81 38 68
Telephone: +212(0)524 39 00 40
Email:
This email address is being protected from spambots. You need JavaScript enabled to view it.
OPENING TIMES
February And October
9.30 am - 6.30 pm
From March to September
9.30 am - 7.30 pm
From November to January
9.30 am - 6.00 pm
ADMISSION
....

Entrance
Tower
Full price
80 dirhams
40 dirhams
Reduced price

60 dirhams: 7-24 years
40 dirhams: Moroccan citizens residing in Morocco

30 dirhams: (7-24 years, moroccan citizens residing in Morocco)
Reduced Price
7-24 years.
Moroccan citizens residing in Morocco.
Free
0-6 years.
Handicapped visitors and their carer.
Le Jardin Secret members.
Tourism professionals.
Press members (upon writing at

This email address is being protected from spambots. You need JavaScript enabled to view it.

).
Groups with reservation by email (starting from 10 people):
60 dirhams per person.
Booklet of 50 tickets:
3000 dirhams.
Annual membership card:
300 dirhams.
Reductions are applied upon presenting a valid ID.
Payment methods accepted
Cash in Moroccan Dirham or in Euro.
Bank transfer or check for agencies.
Accepted credit card:









Le Jardin Secret does not receive any public subsidy. Only the sale of tickets allows its survival.
FACILITIES

Bags, backpacks and other items can be deposited in the cloakroom free of charge. Please deposit your bulky and large items there.

Restrooms are available in two different areas. Baby changing facilities are available in the restrooms at the entrance.

Free Wifi is available everywhere inside Le Jardin Secret.
For any information or need you may have the service personnel will be happy to attend you.
ACCESSIBILITY

All of Le Jardin Secret except the tower is accessible to visitors with physical disabilities. Visitors with disabilities and their carer have right to free and priority access.
VISITOR REGULATIONS
The entrance ticket gives you the right to one entry only.
Bulky and large items must be deposited in the cloakroom.
The consumption of your own food and drink is not allowed inside of Le Jardin Secret. You are advised to leave any food and drink with your possessions in the cloakroom.
Photography and video recording is permitted for private purposes only, using hand-held equipment.
Pets are allowed inside of Le Jardin Secret.